---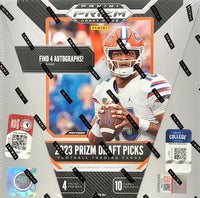 2023 Panini Prizm Collegiate Draft Picks Football Hobby Box
Prizm Draft Picks has returned as the first collegiate football product for the 2023 draft class.
Find 1 autograph, 1 silver Prizm parallel and 2 other Prizm parallels per pack on average!
Collect the first autographs of the highly sought-after 2023 NFL Draft Class!
Find the super rare Color Blast and Stained Glass inserts.
Find Classic inserts including Prizm Break, Hype, Brilliance and new to 2023 Trophy Hunting
Box Configuration:
4 Packs Per Box
10 Cards Per Pack
Box Break:
4 Autographs
4 Silver Prizm Parallels
8 Prizm Parallels
PRODUCT DESCRIPTION
DRAFT PICKS AUTOGRAPHS
- Find autographs of the top prospects from the 2023 NFL Draft!
SATURDAY STAR SIGNATURES
- New in 2023, Hunt for Saturday Star Signatures featuring the best players, new and old, to play on Saturdays.
SIGNING DAY
- Brand New in 2023 Look for Signing Day inserts signed by all the top prospects of the 2023 NFL Draft
BASE PRIZMS
- 2023 Prizm Draft Picks will have a base set that contains 200 of the best former college stars, as well as the first officially licensed cards of the best up and coming stars.
TROPHY HUNTING
- Look for this Brand New insert in 2023 Prizm Draft Picks, Featuring Champions past and present!
PRIZM BREAK
- Look for Classic inserts such as Hype, Prizm Break and Brilliance in hobby boxes.
STAINED GLASS
- Chase the SSP Stained Glass insert in Hobby only.
MANGA
- Hunt for Manga, New in Prizm Draft Picks in 2023, found only in Hobby!
COLOR BLAST
- Chase the ultra-popular SSP Color Blast!

PARALLEL APPENDIX:
DRAFT PICKS AUTOGRAPHS
- Draft Picks Autographs
- Draft Picks Autographs Silver
- Draft Picks Autographs Hyper
- Draft Picks Autographs Red Max #'d/199
- Draft Picks Autographs Blue Max #'d/149
- Draft Picks Autographs Purple Ice Max #'d/99
- Draft Picks Autographs Blue Ice Max #'d/75
- Draft Picks Autographs Orange Pulsar Max #'d/49
- Draft Picks Autographs Mojo Max #'d/25
- Draft Picks Autographs Gold Max #'d/10
- Draft Picks Autographs Black Gold Max #'d/5
- Draft Picks Autographs Gold Vinyl One-of-One
SATURDAY STAR SIGNATURES
- Saturday Star Signatures
- Saturday Star Signatures Silver
- Saturday Star Signatures Hyper
- Saturday Star Signatures Red Max #'d/199
- Saturday Star Signatures Blue Max #'d/149
- Saturday Star Signatures Purple Ice Max #'d/99
- Saturday Star Signatures Blue Ice Max #'d/75
- Saturday Star Signatures Orange Pulsar Max #'d/49
- Saturday Star Signatures Mojo Max #'d/25
- Saturday Star Signatures Gold Max #'d/10
- Saturday Star Signatures Black Gold Max #'d/5
- Saturday Star Signatures Gold Vinyl One-of-One
SIGNING DAY
- Signing Day
- Signing Day Silver
- Signing Day Hyper
- Signing Day Red Max #'d/199
- Signing Day Blue Max #'d/149
- Signing Day Purple Ice Max #'d/99
- Signing Day Blue Ice Max #'d/75
- Signing Day Orange Pulsar Max #'d/49
- Signing Day Mojo Max #'d/25
- Signing Day Gold Max #'d/10
- Signing Day Black Gold Max #'d/5
- Signing Day Gold Vinyl One-of-One
BASE
- Base
- Base Prizm Silver
- Base Prizm Snakeskin
- Base Prizm Ruby Wave
- Base Prizm Red #'d/299
- Base Prizm Blue Wave #'d/249
- Base Prizm Blue #'d/199
- Base Prizm Purple Ice #'d/149
- Base Prizm Blue Ice #'d/99
- Base Prizm Purple #'d/75
- Base Prizm Orange Pulsar #'d/49
- Base Prizm Mojo #'d/25
- Base Prizm Gold #'d/10
- Base Prizm Black Gold #'d/5
- Base Gold Vinyl One-of-One
TROPHY HUNTING
- Trophy Hunting
- Trophy Hunting Blue Ice #'d/99
- Trophy Hunting Orange Pulsar #'d/49
- Trophy Hunting Mojo #'d/25
- Trophy Hunting Gold #'d/10
- Trophy Hunting Black Gold #'d/5
- Trophy Hunting Gold Vinyl One-of-One
PRIZM BREAK
- Prizm Break
- Prizm Break Blue Ice #'d/99
- Prizm Break Orange Pulsar #'d/49
- Prizm Break Mojo #'d/25
- Prizm Break Gold #'d/10
- Prizm Break Black Gold #'d/5
- Prizm Break Gold Vinyl One-of-One