---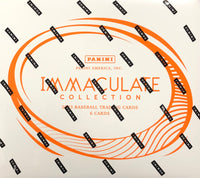 2023 Panini Immaculate Baseball Hobby Box
Look for 4 autographs and 2 memorabilia cards per box.
Look for 8 on-card autograph sets that feature shadowboxes, autographed material, triple material autographs, dual players and more!
Jumbo material is back! Immaculate is the only program you will find this unique material from loads of top 100 prospects!
Immaculate is full of Hall of Famers and other legends of the game. From Hall of Fame Jumbo Materials to the amazing Quad Legends Memorabilia, 2023 is sure to please.
Look for these new designs including, Immaculate Black Materials, Prime Prospects Materials, Immaculate Moments and more!
Box Configuration:
1 Pack Per Box
6 Cards Per Pack
Box Break:
4 Autographs
2 Memorabilia Cards
PRODUCT DESCRIPTION
Prospect Patch Autographs
- This set features an amazing group of prospects set test the bigs. From organizational No. 1s to top 100, you're sure to find someone to collect in Prospect Patch Autographs!
Autographed Materials
- This 20-card set is full of retired legends and fan favorites!
- Look for names like Jeff Bagwell, George Brett, Bernie Williams and Shawn Green with up to 13 parallels!
Clearly Immaculate Material Signatures
- A unique 50-card set that pairs an acetate autograph with memorabilia.
- Look for an all retired checklist with Hall of Famers, multi-time all stars, fan favorites and more!
Jumbo Bat Signatures
- One of many jumbo memorabilia autographed inserts in Immaculate, Jumbo Bat Signatures is a mixture of retired and prospects with 8 parallels including 1-of-1 printing plates!
Dual Legends Materials
- Find never-before seen legendary pairings and classic combos in this set! Look for 8 parallels including 1-of-1 printing plates!
Jumbo Materials
- A staple in Immaculate is Jumbo materials that showcases Batting Gloves, Fielding Gloves, Cleats, Hats and Jackets!
- Look for 17 versions all numbered to 10 or less!
Jersey Numbers
- There are plenty of iconic jersey numbers in baseball's past, led by names like Babe Ruth #3, Mickey Mantle #7, Ken Griffey Jr. #24 and George Brett #5.
- Look for an amazing group of players you remember and their iconic jersey numbers to match.