---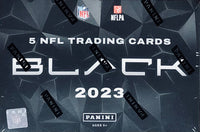 2023 Panini Black Football Hobby Box
This year's Black Football features the hottest rookies from the NFL Draft Class of 2023, along with more content, inserts, and designs!
Look for limited memorabilia cards 1 per box, with Futuristic, Rookie Influx, and new in 2023, Starlight Materials!
Look for these eye-popping short prints: Vanta, White Night, and ForceField! Also, look for our new Prolific insert!
Chase on-card autographs with the always-popular Midnight Signatures, Capstones, Smoke Show Signatures, Spotlight Signatures, and Shadow Ink!
Box Configuration:
1 Pack Per Box
5 Cards Per Pack
Box Break:
1 Rookie Patch Autograph
1 Additional Autograph
1 Memorabilia
1 Base
1 Parallel
PRODUCT DESCRIPTION
BASE
- Find a 242-card base set, including 100 rookies.
- Find current and future stars!
ROOKIES
Chase those 1/1 Platinum Rookies!
PROLIFIC
- The newest addition to the short prints, hunt for some of the biggest NFL stars in Prolific!
- Also look for returning fan favorites like White Night, Forcefield, and Vanta!
SHADOW INK
- The Shadow Ink insert will be one of the many highlights of your collection!
- Hunt for the on-card autographs from today's brightest stars from the NFL's past and present!
ROOKIE PATCH AUTOGRAPHS
- Returning in 2023, hunt for the fan favorite Rookie Patch Autograph Max #'d/199!
ROOKIE SIGNATURE MATERIALS
- Returning In Black Football in 2023: Hunt for Rookie Signature Materials!
- Featuring some of the most dynamic rookies entering the league in the 2023 NFL Draft!
SIZEABLE SIGNATURES ROOKIE JERSEY
- Returning in 2023, look for oversized jersey-patch autographs in Sizable Signatures Rookie Jerseys, and find all the top rookies from the 2023 NFL Draft!
BLACKED OUT AUTOS
- New in 2023: Chase the new insert- Blacked Out Jersey Autos!
- Hunt for the Rookie Blacked Out Shield 1/1 Featuring some of the most dynamic Rookies from the 2023 Class.
ICONIC IMPACT INK
- Returning in 2023: Look for Iconic Impact Ink, featuring trapped-acetate autographs of the NFL's brightest stars!

PARALLEL APPENDIX:
BASE
- Base
- Base Royal #'d/75
- Base Sapphire #'d/35
- Base Citrine #'d/25
- Base Emerald #'d/10
- Base Gold #'d/5
- Base Platinum #'d 1/1
ROOKIES
- Rookies
- Rookies Royal #'d/75
- Rookies Sapphire #'d/35
- Rookies Citrine #'d/25
- Rookies Emerald #'d/10
- Rookies Gold #'d/5
- Rookies Platinum #'d 1/1
SHADOW INK
- Shadow Ink Max #'d/50
- Shadow Ink Royal Max #'d/25
- Shadow Ink Emerald Max #'d/15
- Shadow Ink Gold #'d /10
- Shadow Ink Platinum #'d 1/1
ROOKIE PATCH AUTOGRAPHS
- Rookie Patch Autographs Max #'d/199
- Rookie Patch Autographs Royal Max #'d/99
- Rookie Patch Autographs Citrine Max #'d/50
- Rookie Patch Autographs Emerald Max #'d/25
- Rookie Patch Autographs Gold Max #'d/10
- Rookie Patch Autographs Platinum #'d 1/1
ROOKIE SIGNATURE MATERIALS
- Rookie Signature Materials Max #'d/99
- Rookie Signature Materials Royal Max #'d/75
- Rookie Signature Materials Citrine Max #'d/50
- Rookie Signature Materials Emerald Max #'d/25
- Rookie Signature Materials Gold Max #'d/10
- Rookie Signature Materials Platinum #'d 1/1
SIZEABLE SIGNATURES ROOKIE JERSEY
- Sizeable Signatures Rookie Jersey Max #'d/99
- Sizeable Signatures Rookie Jersey Royal Max #'d/50
- Sizeable Signatures Rookie Jersey Emerald Max #'d/5
- Sizeable Signatures Rookie Jersey Gold Max #'d/2
- Sizeable Signatures Rookie Jersey Platinum #'d 1/1